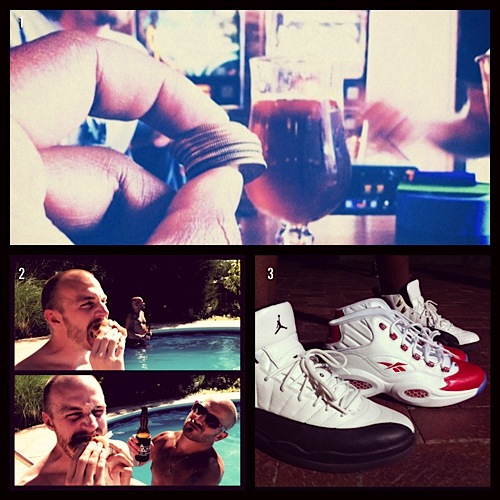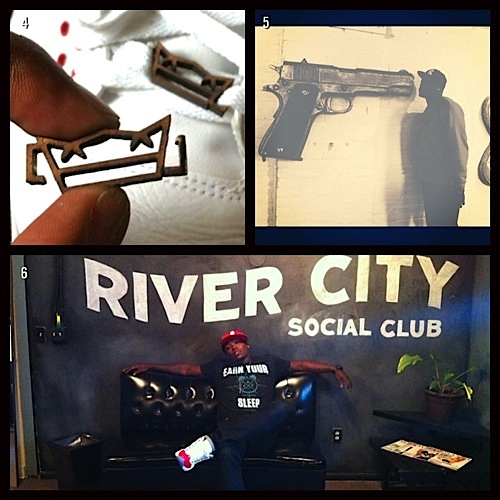 1. The RDQLUS CREATIVE hosted monthly event "HUMP!"—held on the last Wednesday of each month—went mobile this month; all the way back to 1984! With a bucket full of quarters that we affectionately all called "Dad", a couple of pizzas from the 'Pizza Shoppe' and the "RDQLites" stormed Benson neighborhood's 'Beercade' for a few hours of 8-bit, coin-dropping action. Don't worry, "Dad" has enough quarter for you to continue, so we'll do it again next month.
2. RDQLUS' Guide for Classy Gents - rule #36; Never take a burger to the pool unless your manservant goes with. Therrrrre ya go!
3. Fresh Kicks On; One of my pro-bono clients, F.A.K.E. (Fly-Ass Kicks Everyday) is a group of young sneaker collectors looking to legitimize their involvement in fashion, style and footwear cultures. Invited to be a part of the group, this was a shot of the "OG" (what they call me as the oldest member by far) rocking a pair of classics and toting another for a little "OG" back up.
4. Last week I reported on a newly-designed custom lace accent for 'RDQLUS Goods & Cloth'. Well, for an update I've added an innovative modification, never seen before in lace accents; a one-piece system allowing the "debray" to be removed without un-lacing the sneaker each time you want to put them on another pair. You've seen it here first! You know the RDQLUS CREATIVE motto… Functional art works!
5. "My whole life, staring down the barrel… "
Tonight is the opening of a particularly amazing show at The New BLK Gallery. "Pieceable Kingdom" is a visual mashup of out-sized, "imaginarium" fun-house visuals with brilliant interpreted commentary. Show opens at 7p, 1213 Jones.
6. Shouts out to the first boutique to officially place an order to stock RGC! 'River City Social Club' is the first shop of its kind in the Omaha-area. Knowing the ownership very well, I was proud to furnish items from the Spring 2012 line. Stop by and say what'up to the RCSC crew (809 South 75th Street, the lower-level of Liquid Courage Tattoo), and tell them RDQLUS sent you.